Welcome to Rug Cleaning In Atlanta
We here at Rug Cleaning in Atlanta want to make cleanliness as easy as possible for you. Your investment in carpeting deserves excellent customer service which we offer to all clients. We are the premier rug washing company, and our services include rug pet odor removal, rug moth protection, rug repair, and rug pads. From top to bottom, we ensure that your rugs are healthily clean each and every time.
We appreciate your lifestyle that demands an innovative cleaning process which defines our status as the premier rug washing company. Intense pre-inspection determines the state of your carpets and the optimal treatment which we give them. Prior to treatment, we conduct a color fastness test as well as do any spot-cleaning as necessary. Any loose dust is removed by thorough vacuuming, and the rug's fringes get special attention first.
Rug repair is a talent which our experienced, trained technicians at Rug Cleaning in Atlanta have developed. Minor defects can be minimized with an eye to the rug's design and we guarantee good results.
Rug washing includes rug pet odor removal, rug moth protection, and cleaning of rug pads, because we realize that a healthy indoor environment is the ultimate desire of both you as a client and us as a service provider. We use superior equipment and safe cleaning products for your carpets, and our excellent customer service ensures that you need look no further than Rug Cleaning in Atlanta for your home's beauty. Call today for an appointment.
Winner of the 2017 Angie's List Super Service Award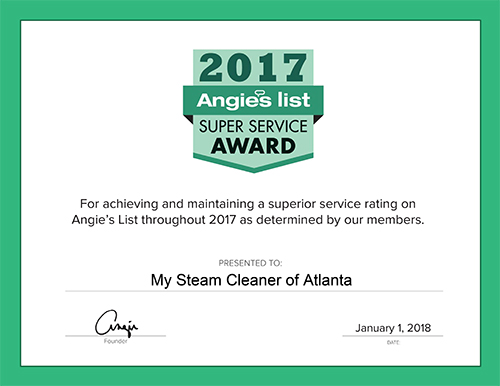 Previous Award Winner in 2015 and 2016!
2022 IICRC Certification
2024 Braselton Business License
2023 Woolsafe Certification